Meet Carissa, one of our newly appointed Directors, based in our Matamata office.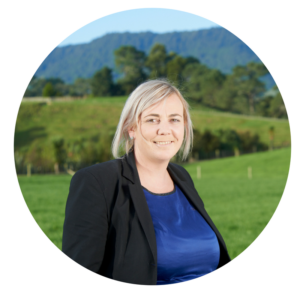 Carissa was born and raised in the Matamata area with her two brothers, Scott and Ross, and sister, Alicia. Mum and Dad were dairy farmers when Carissa was younger so she spent much of her spare time growing up on the farm, enjoying the outdoors, helping with the calves and enjoying the boxer puppies the family bred. When she wasn't on the farm, Carissa enjoyed playing netball and socialising, and worked in a variety of part-time jobs throughout high school.
Carissa was always academic and studious throughout her school years, and due to her love for animals from an early age, she aspired to be a vet in her younger years. However, Carissa's strong interest in maths and science through secondary school made the choice to continue through to Waikato University and focus on accounting, an easy one.
Carissa started her accounting career in Morrinsville at Reg Churton's office for 3 years before joining the CooperAitken team. Carissa was based in our Morrinsville office for 5 years then moved onto our Matamata office where she has been instrumental in building the practice for the last 5 years.
Carissa met her husband, local plumber Andrew Cressy, while studying at University and they married in 2016. Andrew is extremely supportive of Carissa's career and she attributes some of her success to this support and encouragement. They live locally in Matamata, with their rescue dog Syd, gorgeous wee girl Harper, and enjoy spending time with family and friends, and renovating their home.
Carissa's vibrant personality and friendly approach makes her a firm favourite with our clients, and a great person to have on your team.