Our philosophy is simple: to work closely with our clients assisting them to be successful and to grow.
We hold strong rural and family values, and strive to deliver a forward thinking, high quality professional service. Our team is vibrant and energetic and prides itself on searching to provide the best solution for you.
Our Core Values are:
Professional
Quality Focused
Friendly and approachable
Progressive
Energentic and vibrant
Community spirited
CooperAitken will help create freedom in your business by providing you with peace of mind, they will help save you money and save you time.
We want the very best for our clients, for them to be successful and grow.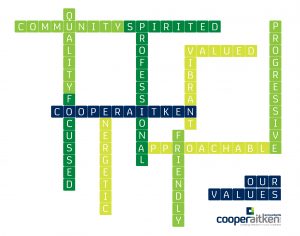 Benefits of working with CooperAitken
Working together and interpreting your information we will be able to:
Make better decisions based on better information
Identify areas where you can improve performance – be more economical, reduce costs and be more profitable
Help you understand what makes you money and what costs you money
Design and review your tax strategies to save you money this year, next year and throughout your life
Find out how you compare to similar businesses by benchmarking, giving a good indication of which areas can be improved and gain competitive advantage
Maintain a strong audit trail and reduce worries with the IRD
Increase your business and personal options for the future including: buying and/or merging a business, selling a business, succession planning, retirement and estate planning and trusts.