Happy Retirement
Gaylene Walls farewells CooperAitken after 30 years
Initially employed by Bob Aitken in 1984, Gaylene recently retired from her role as accounting clerk at CooperAitken. In contrast to the formality of today's employment process, no interview was needed, just a meeting to see if Gaylene liked the Aitken team enough to work with them. In fact, she liked them so much that she stayed for 30 years! Gaylene has many fond memories and has seen many changes during this time.
At her farewell Rodney Aitken thanked her for her dedication, loyalty and help over the years. Gaylene in turn thanked all those she has worked with, with special mention of Rodney and Janet Pitkethley, Rodney's client manager, for putting up with her over the 30 years, and thanked those who had helped her get to grips with the on-going technology challenge.
Gaylene, who will be missed by both the team and clients, is looking forward to an overseas trip and to spending more time with her grandchildren.
A flourishing career in the making…
We are absolutely delighted that Sean Wheat of our Morrinsville office has achieved the Chartered Accountants Australia New Zealand award for Top Bachelor of Business Studies Student Accounting Year 1.
Sean joined the team at CooperAitken in May 2013, as a junior accountant. He started studying for his degree in February the following year.
With his family Sean attended a Special Awards Ceremony in March where Natalie Faidley from the Chartered Accountants Australia New Zealand presented him with a certificate acknowledging Sean as a top performing student, recognising his hard work and commitment to learning. She said, "Sean works with quiet determination and has a real eye for detail. He is held in high regard by his peers as a problem solver." At the ceremony Sean thanked his family, tutors and CooperAitken for their support.
Sean is continuing his studies to become a Chartered Accountant.
Achievement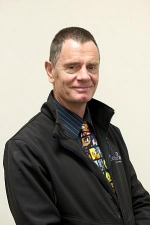 John Brosnan our HR advisor has received certification from the New Zealand Institute of Primary Industry Management (NZIPIM).
Your farm team is key to productivity and business growth on the farm. Farmers can be confident that a certified consultant will have the ability to address the full range of people-management issues and improve the way farmers manage their staff, gaining staff engagement and retention.
John is the 4th person to achieve accreditation under a new people management certification scheme.
If you would like help with a staff matter please contact John Brosnan 07 889 8838
New Staff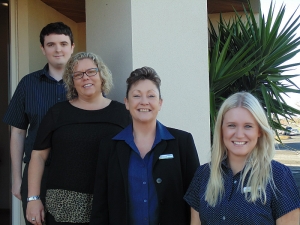 In March, Catherine Ferris started in our tax division bringing 20 years of tax administration experience with her. In April, Mitchell Arndell and Sarah Bedford started as trainee accountants in our Morrinsville office. Also we have appointed Megan Shannon, software support co-ordinator to help assist our clients with their accounting software.
Baby news..

Congratulations to CooperAitken director, Peter Hexter, and wife Vanessa on the arrival of their baby girl Summer Claire Hexter.
St Patricks Day
The team got behind St Patricks Day, dressing in green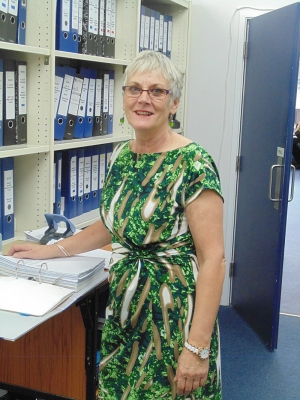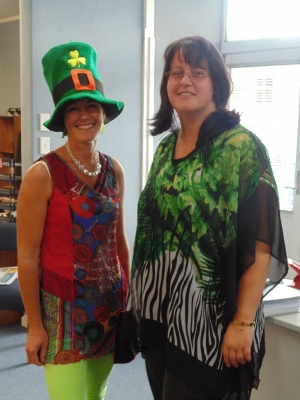 The Herd of Cows
The Herd of Cows was unveiled at the Wallace Art Gallery in March
Our cow, Freedom, has been decorated with an abstract design by Christine Melchior using our brand colours to reflect our vibrancy and energy. Freedom is now positioned outside the i-SITE building in Thames Street.
The project has been a great way to combine two key aspects for Morrinsville – a strong dairying heritage and the town's growing art culture. The cows are now permanently placed in their final resting positions throughout the streets of Morrinsville. Follow the trail and check out these quirky, colourful life-sized cows. A further 15 cows have been sponsored and will become part of the trail in September.
To see photos of all the cows.
Importance of on-going Trust Management
Clients establish trusts for various reasons, to provide protection against creditors or relationship property claims, or for succession planning purposes. These are all good reasons to establish a trust, however they should be managed and reviewed to ensure the trust structure is providing the intended protection..read more
Changes with renting a house to farm staff
A farm job often comes with a farm house and the amount the farm worker pays for the accommodation is the PAYE on the rent allowance, the rent allowance being part of his overall salary package.
For example as a farmer-employer you may currently rent your 3 bedroom worker accommodation to your employee for $100pw. The $100pw is the rent allowance which the employee will pay PAYE on. Typically over the last few years the rent allowance has been between $80 and $100pw.
However this needs to be revisited as the Inland Revenue (IRD) are looking at this area in relation to Fringe Benefit Tax (FBT) which creates issues for farm employers.
So with our example above if the property actually had an assessed market rental value of $300pw the IRD will look at this as a fringe benefit to the value of $200pw to the employee.
At a single FBT rate of 49.25% the employer potentially now has FBT of $5,122.00 per annum to pay. This is just an example and FBT rates vary along with the employee's income and PAYE rates but the point is that the rental of the farm property must now be in line with market rates.
With this drive to have properties at market rates, many employment agreements signed this season have a higher rental allowance to reflect the new rental amount. That is quite straight forward with new employees, but bringing existing employees rents and rental allowances in-line with current market rates is a little more involved as the salary will also need increasing to off-set the increased PAYE and allow the employee to maintain the same net payment in their hand each pay day.
If you would like help amending staff contracts, or with staff management issues contact John Brosnan on 07 889 8838.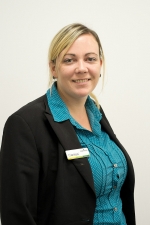 Tax Pooling – could this option help you?
Estimating your tax obligations is hard, Tax Pooling could help you if you pay tax late, underpay or pay too much read more.
You may have noticed that we are working towards less postal mail coming your way. One step we have taken is to no longer automatically send statements providing payment is made by the 20th of the month following your invoice. Overdue statements will be emailed whenever possible.
To make it easy for you to pay us on time we have a wide range of payments options available. We appreciate there may be times when paying the full invoice amount in one go may be difficult and we are open to discussing payment methods with you.
Payment options
Internet Banking – our account for internet payments is 12-3123-0002472-51. Some banks use 3 characters for the last section in which case it would be 12-3123-0002472-051. Please use your client code (printed on your invoice) as your reference to ensure it is applied to the correct account.
Credit cards – these can be processed by our receptionist at our office, or you can email payment details to accounts@www.cooperaitken.co.nz.
Eftpos / Debit cards – these can be processed by our receptionist at our office.
Automatic Payments – We can give an estimate of your annual fees so that you can spread the payments over the year. A reconcile is necessary at year end.
Cash / Cheque – of course these options continue to be acceptable. Please include the remittance advice from your invoice to ensure the payment is credited to the correct account.
FeeSmart – for those who have received an account and need finance to spread the payment we offer a financing service from feeSmart Finance Ltd. Visit their website http://www.feesmartdirect.co.nz/ or contact accounts@www.cooperaitken.co.nz and we can produce an agreement for you.
Our aim is to make paying us as easier as possible. Please contact Jenny on 07 889-8850 of you have any other ideas for improvement in this area or wish to discuss your options.
The faces of Triplejump are changing

We launched Triplejump,our risk management service, over two years ago having identified that this was an area of value for our clients with a product that we strongly believe in. We have now transferred the service to one of the largest Triplejump franchises where we believe our clients will be well served. Triplejump Manawatu established in 2010 currently with seven staff they have been working alongside businesses and farmers throughout the country, with a strong presence covering the area from Wellington to Waikato. Steven Radich is the Managing Director and is an authorised Financial Adviser. Steven is passionate about risk management and has extensive knowledge of this industry and will continue to service and protect our clients in the area of risk management.
Email is preferred
We do prefer to communicate with you using email. If we do not have your email address (or it has changed) please contact our receptionist, Vicki, by phone (07 889-7153) or email vicki@www.cooperaitken.co.nz .
Attachments