CooperAitken celebrate winning the MPDC Bayleys Supreme Business Award.
CooperAitken are flying high on a win of not only the Professional Services Award at the Matamata-Piako District Business Awards 2019, but also taking away the Bayleys Supreme Business Award.
The Business Night Out hosted by the The Matamata-Piako District Council (MPDC) provides an opportunity to recognise the efforts and success of businesses in the Matamata-Piako area and this 2019 awards evening was one to be enjoyed with a night of great food, networking and an appearance from inspirational speaker Cam Calkoen.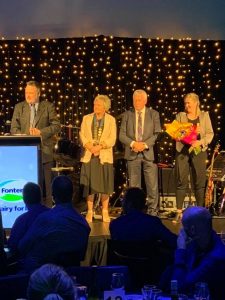 CooperAitken take their role as professional advisors very seriously. Their client base has grown substantially over recent years, something they are rightly very proud of. In some instances they are working with third generation clients, and that's a reflection of CooperAitken's core values and their 'Clients for Life' ethos.
CooperAitken's values are clear: 'The core values that we strive towards are to act professionally, deliver you a high quality service in a friendly and approachable way. To be vibrant and energetic, progressive and forward-thinking. And to be community-spirited'. The judges of the MPDC Business Awards 2019 recognised these traits as something of a winning combination choosing CooperAitken as the top pick from all the categories and winners crowning them the Bayleys Supreme Business Award 2019 winners.
CooperAitken took to Facebook to celebrate their great news, "We are very proud to have been announced as the winners of the 2019 Professional Services Category along with the 2019 Bayleys MPDC Supreme Business Award. We are very proud of our team here at CooperAitken and this is a recognition of all their hard work". They also took the opportunity to show their support of all the other nominees, "Congratulations to all the other nominees and winners on the night, it's great to see such a strong business community in the Matamata-Piako region". 
"Thank you to all of the sponsors, the judging panel and especially the Matamata Piako District Council for hosting a wonderful evening including a fantastic key note speech from Cam Calkoen" states the Facebook post.
The team at CooperAitken are a diverse group of dynamic individuals and it doesn't look like they are slowing down anytime soon: "We [CooperAitken] currently employ just over 103 staff, including 38 Chartered Accountants. Our staff are an integral part of our success, with a 50/50 gender split of owners and the average age of 42 years, this is almost unheard of in the industry – especially for a 100+ team member organisation – the firm is well set for the future" comments Grant Eddy, CooperAitken CEO and Director.
With over 100 years in the business and stronger than ever, CooperAitken serves provincial communities across the Coromandel Peninsula and Waikato regions, from Morrinsville to Matamata to Thames. Their unparalleled experience offers access to expertise and resources across 10 specialist service divisions, so talk to the team at CooperAitken today about your business and accounting needs, phone 07 889 7153.