Articles
Four Quick Facebook Tips
our Quick Facebook Tips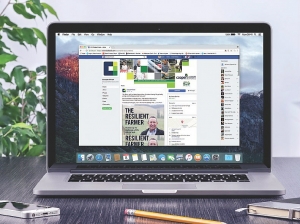 Are you trying to grow your social media following? Have more influence and increase engagement with your brand? Here are a few basic tips to help you towards success:
1. Have a unique URL
Setting a unique URL for your business Facebook page makes your page easier to find easier to share and its looks professional and branded. Facebook defaults to a URL that looks something like this www.facebook.com/CooperAitken/492382590285903?ref=ts. Once you have 25 likes on your page you can set your own URL. For example   www.facebook.com/cooperaitkenaccountants/ To set a unique URL for a Facebook page click into the admin of the page you want to update. Click on about on the left hand side. Scroll to the "GENERAL" section and locate the section "Username". Click edit to the right of the username.
2. Have a plan
Sit down and take some time to think about how you want to use Facebook. What is your main goal or purpose? Your content marketing plan should answer the following questions:
What types of content do you intend to post and promote?
Who is your target audience?
How often will you post content?
Who will create the content?
How will you promote the content?
Make sure all your posts are relevant to your audience and either help them or are entertaining.
3. Post consistently
Start as you wish to continue. Make sure that how often you post is consistent and sustainable. Don't start off posting four times a week and before you know it you are barely posting fortnightly.
4. Schedule posts
This tip is one of my favourites for the new Facebook page administrator. Facebook allows you to schedule posts in advance. Using scheduling you can test the times of day and week that you have the best engagement (likes, comments and reach) and then post at those times – without physically having to post those posts at those times. It also allows for you to plan in advance, you can sit down for half an hour and write a number of posts for the week and set the times for them to publish, allowing you to be more focused and productive.To schedule a post, write the post and add media as you normally would, but instead of clicking on the publish button, click on the little arrow to the right of the word publish and click schedule. From there you choose your date and time, click schedule and Facebook takes care of the rest.
Want some help? Contact CooperAitken for professional Marketing support.